• authors • black and abroad • black authors • black owned business • blog • blogger • book • book club • center road school • children authors • children's books • connecticut • connecticut authors • connecticut bookstore • connecticut publishers • disco balls of the universe • diverse authors • diverse book authors • hartford lit • hartford public library • Lauren Simone Publishing House • library • nbc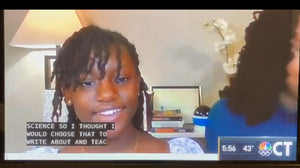 On February 16, 2021, our kid author, Imani Ariana was featured on NBC CT as an inspirational kid author. Only 12 years old author, but she published two books: Disco Balls of the Universe and The Golden Life of Sally Sunflower with one soon to be released! She loves STEM so her books cover related topics. She has sold over 1000 books in 2020. She is also the founder of Love of Literature Book Club. Imani hopes to build a community of children who enjoy reading and socializing to discover the world of fun through literature.   This was not Imani's...
---
• book club • center road school • connecticut • disco balls of the universe • imani ariana • imani grant • Jack and allie's • planets • saturday events • solar system • space adventure • vernon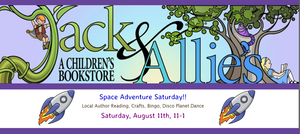 On Saturday, August 11, 2018, Imani Ariana attended an event at Jack and Allie's. The bookstore owner, Barbara, welcomed Imani Ariana to host a Space Adventure! Imani read her book, Disco Balls of the Universe to toddlers and school aged children.  Then they had a dance party and did a line dance around the store.  After that children played Space Bingo and did Solar System arts and craft.      Parents purchased books and requested Imani's signature. Imani took pictures with the children. Children and their families from the Vernon School District poured into the store. And best of all,...