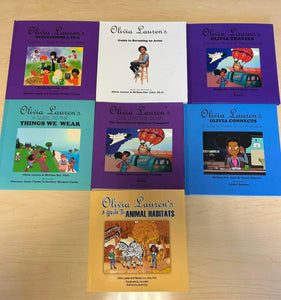 Lauren Simone Publishing House
Olivia Lauren Book Series
Regular price
$72.00
Sale price
$90.00
Tax included.
Shipping
calculated at checkout.
Olivia Lauren is a young, African-American girl, who wears her denim overalls, loves to travel, learn, and spend time with her diverse group of friends. In each book title of the series, she shares her discoveries. 
Collect the whole series.
Read more, learn more!
Occupations A to Z is a youth illustrated children's book about jobs and careers. Olivia Lauren and her friends take children on a journey through the alphabet to learn about traditional and nontraditional careers in the arts, business, science, technology, engineering, and math. Recommended for children 4 to 10.
Children often wonder how their favorite television star became an actor. Olivia Lauren, child actor, shares steps that she took to become an actor. Through these ten steps, detailed description, and illustrative pictures, show business is no longer a mystery for children and their parents.
 Olivia travels: A Guide to Modes of Transportation is a fun story that teaches young children about different ways that people travel. Olivia takes her readers on a journey through her own experiences with transportation. Children will increase their vocabulary, be exposed to rhyme and rhythm, and learn about homonyms.
 Olivia Connects: A Guide to Modes of Communication teaches children about different ways people communicate. Olivia Lauren and her friends discuss communication styles and explore ancient and contemporary modes of communication. Children will increase their vocabulary, grow in curiosity about communication devices, and enhance their understanding about communication abilities.
 Olivia Lauren's Things We Wear is a story about a child model and her friends exploring the different things people wear. Olivia Lauren and her friends tell us about the when, where, and why regarding the things we wear. Children will increase their vocabulary and curiosity about fashion, tradition, and the significance of clothing.
A Guide to Animal Habitats is a kid-friendly, mixed media, multicultural approach to learning about different types of animal habitats in their various locations. Olivia Lauren travels with several friends to learn about different habitats.
---
More from this collection