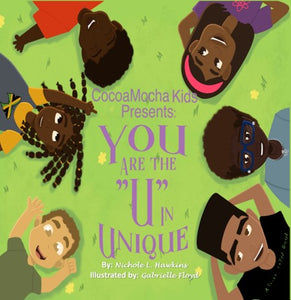 Lauren Simone Pubs
You are the U in Unique | Diverse children's book | Lauren Simone Publishing House
Regular price
$14.99
$0.00
Tax included.
Shipping
calculated at checkout.
 Synopsis: During the quarantine as a result of Covid-19, the author began hosting an online storytime. At the end of each segment, she repeated the refrain: You are the "U" in Unique. During that trying time, her goal was to remind young people of how special they are. This story is an elaboration on that inspirational sentiment. The goal of this repetitive refrain is to train the brain to reinforce the importance of self-worth and self-love to children of all ages. The author also became a foster parent, as the need for safe refuge rose significantly during that unprecedented time. As a foster parent, she knew all about the unfortunate displacement and uncertainty of little ones in foster care. This story is to serve as a familiar beacon, affirmation, and reminder of their worth. It is her hope that this book will be made available to foster parents and children in foster care. If they should misplace their copy of the book, wherever their journey in foster care leads, a copy will be awaiting them to remind them they are loved, valued, and unique!
PREORDER TODAY! Why?
1. Get autographed copies.
2. Meet the author.
Orders will be distributed at the book launch, so enter LAUNCH at checkout to skip shipping fees. If you want your book mailed to you, do not enter the promo code. 
Also available on Amazon if out of stock here.
---
More from this collection